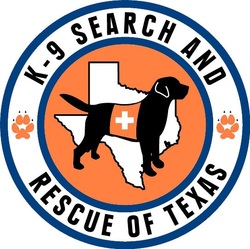 Mission
K-9 Search and Rescue of Texas (K-9 SAR TX) is a volunteer non-profit 501(c)(3) corporation based in Houston, Texas.
K-9 SAR TX, through the use of highly trained and tested handlers and their canine partners, provides assistance to local, state and federal agencies in the search for and the recovery of lost and missing persons.
In addition, through community education programs, K-9 SAR TX strives to inform the public on how to avoid becoming lost and what to do if it happens.
In Case of an Emergency
If you are confronted with a situation involving a lost or missing person you should
CONTACT LAW ENFORCEMENT IMMEDIATELY.
The sooner a search is started the better the chance for survival.
K-9 SAR TX will only respond to calls from law enforcement or the responsible local, state or federal agency. With approval from the responsible agency, K-9 SAR TX will assist other search organizations.
Our
24-hour emergency call out number is 713-817-2282. Your call will be returned immediately.
PLEASE DO NOT CALL OUR EMERGENCY NUMBER UNLESS IT IS AN EMERGENCY! WE DO NOT HAVE ANIMALS FOR ADOPTION. WE DO NOT SEARCH FOR LOST PETS. THANK YOU.
24-Hour Emergency Contact Number:
713-817-2282
Note to agency users:
When requesting the services of a search dog team we recommend that you check to make sure the handler/canine team has been certified to a legally acceptable standard; administered by an independent, qualified third party evaluator.
For HRD, the certifications accepted by K-9 SAR TX are NAPWDA, NNDDA, SARDUS, USPCA and the National Center for Canine Training. For all other disciplines, we accept those listed previously, as well as those
administered by National Association for Search and Rescue (
www.nasar.org
), Federal Emergency Management Association (
http://www.fema.gov/emergency/usr/caninecert.shtm
), International Police Work Dog Association (
www.ipwda.org
).
Other organizations and standards are considered on a case by case basis.
General Information Number: 713-415-6648 E-mail:
sardog@k9sartx.org
Ways to support our team:
Shop at
Amazon
and support our team! Scroll down and click on the Amazon icon near the bottom of the page..
Sponsor-A-Dog Fundraiser
Please help K-9 SAR TX raise much needed funds by sponsoring one of our K-9 Partners! You may sponsor a dog by calling the donation info line at 713-415-6648 or sending an e-mail to
sardog@k9sartx.org
.
If you prefer to make an online contribution via
Pay Pal.
Scroll down and click on the Donate button below. Thank you for your support!
Members:
Active Members:

Mary Jane Boyd mjboyd@k9sartx.org, Dog Handler, Flanker, Search Manager, NASAR SARTECH II, NASAR Instructor ISAR, FUNSAR & ADSAR, NASAR Lead Evaluator Canine SARTECH Disaster Responder HRD & Live, Area II & III, HRD Land, SARTECH III & II Exams, Instructor and Evaluator Workshops
Kristin Cardenas: Dog Handler, Flanker, NASAR SARTECH II, NAPWDA HRD Land
Tina Edwards: Dog Handler, Flanker, NASAR SARTECH II
Member Candidates:
Marissa Fichera, Dog Handler
Supporting Members:

Kate Barta
Colleen Blair
Courtney Blair
Kenneth Edwards
Gary King: Flanker, NASAR SARTECH II
Kerry Wagenhoffer
Sharon Wagenhoffer
Community Education Services:
Presentation: Hug-A-Tree – Child Survival Presentation (for children and their parents)
Presentation: Missing Child Awareness, Prevention and Education Program (for parents)
Presentation and/or Demonstration: Search Dogs at Work
K-9 SAR TX will be glad to schedule a presentation for your school or organization. For information please call our general information number or send us an e-mail.
---
Thank you for visiting our site. Your feedback and support are appreciated!